How to Help Teens Become More Self-Compassionate
Self-compassion may be key to supporting teen mental health. Dr. Karen Bluth shares lessons from her mindful self-compassion program.
Leslie came to the first class of my course on self-compassion for teens with a definitive chip on her shoulder. She refused to sit with the group, standing on the perimeter with arms defiantly crossed and eyes narrowed. There was no doubt of the message she was conveying: "Don't you dare try to make me participate in this class."
I didn't. I knew better.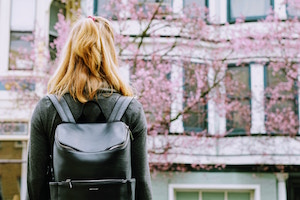 During a self-compassion meditation, I sensed Leslie shifting uncomfortably in her seat. She breathed heavily from time to time. But when the meditation ended, her face had changed; the anger and resistance had dissolved and tears were rolling down her cheeks. Through her sobs, Leslie explained that she didn't want to be here, that all her friends were together at a football game and her mom made her come to this class. We breathed with her during her story and welcomed her tidal wave of emotions. In the course, we always allow emotions to be present, no matter how overwhelming, in an effort to help teens learn how to deal with them.
The class ended. Leslie bolted out, ran down the hall, and was gone. All week I wondered if she would be back for the next session.
The class I was teaching was called Making Friends with Yourself: A Mindful Self-Compassion Program for Teens (MFY). It focuses on the specific skills of how to be kinder to yourself—as pioneering self-compassion researcher Kristin Neff puts it, treating yourself as you would a good friend who was struggling. Sad to say, almost 80 percent of us treat others with more compassion and kindness than we offer to ourselves. When our friends have a bad day, we support them in every way we know how; when we're having a bad day or fail at something, we generally beat ourselves up with self-criticism.
Read More Here   How To Help Teens Become More Self-Compassionate